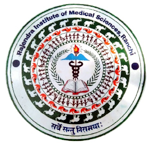 Rajendra Institute of Medical Sciences
An Autonomous Institute under the Govt. of Jharkhand
Ranchi, Jharkhand
Department - Biochemistry
INTRODUCTION


The Dept. of Biochemistry came into force at RIMS in the year 1960 under the ageis of Dr. K.P. Sinha. In the subsequent years Dr. A.K. Lal, Dr. A.K. Singh, and Prof. Dr. K.K. Sinha served as head of Department. Presently the departments successfully running under Prof. Dr. Ajit Kumar.
THE BIOCHEMICAL INFORMATICS CENTRE
The Biochemical Informatics Centre, one of the centers of ICMR was established in the Dept. of Biochemistry in February 2014 under Prof Dr. K.K. Sinha as a Principal Investigator and Dr. Anupa Prasad as Co-Principal Investigator. Presently Dr. Ajit Kumar is the Principal Investigator.
ACTIVITIES
Undergraduate-

Workshops, Conference & CMEs are organized for the students to provide a better interactive atmosphere.
Postgraduate-

They are encouraged to carry out project work on their thesis protocol based on biochemical parameters in different clinical conditions in patients/population based on studies.
FUTURE PLANS
To be recognized as a center of excellence in biochemistry that provides an atmosphere to acquire skills in research activities using modern equipment & technology.
CONFERENCES & MEETINGS HELD IN THE LAST YEAR
2 Workshops were arranged in the last year by BMIC, Dept. of Biochemistry.
FACULTY
| Photo | Name | Designation | Date of joining | View Profile |
| --- | --- | --- | --- | --- |
| | Dr. Santosh Kumar | Professor & HOD | Not Available | view profile |
| | Dr. Bela Rose Ekka | Professor | Not Available | view profile |
| | Dr. Tarique Aziz | Associate Professor | Not Available | view profile |
| | Dr. Jitendra Kumar | Tutor | Not Available | view profile |
EDUCATION
Undergraduate:-

Postgraduate:-

1. Periodical examinations

2. Performance & Attendance

3. Presentations
FACILITIES
For Students-

Lectures, practical and tutorials are conducted regularly. UG Student Lab is well equipped with all the reagents, apparatus, glass wares etc. Students are encouraged to undertake projects & research works.
For Patients-

All types of biochemical investigations are being conducted here. Quality control is run daily to ensure the reliability of each report and turnaround time is taken care of.
ACHIEVEMENTS
NEWS UPDATES
RIMS, Bariatu
Ranchi, Jharkhand, India

Ph : +91-651-2545405,
+91-651-2545404
Fax: +91-651-2540629